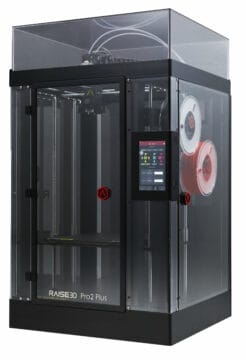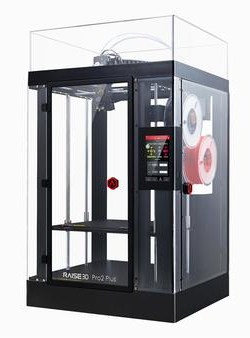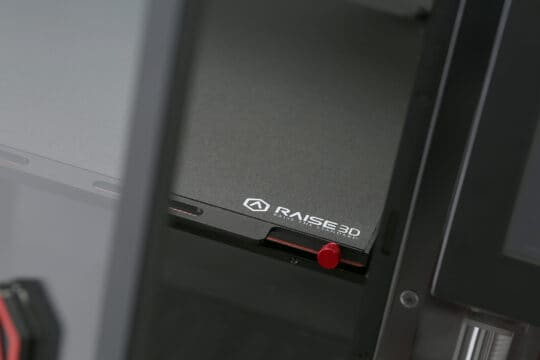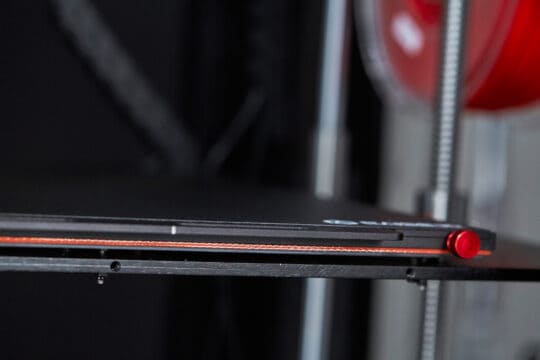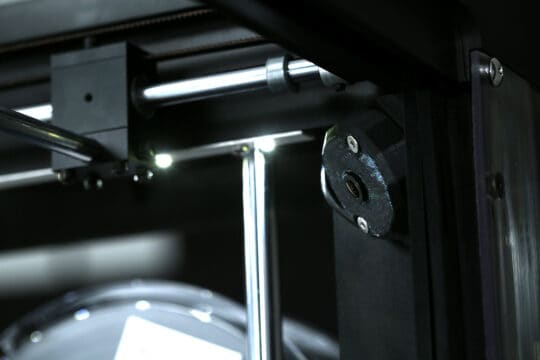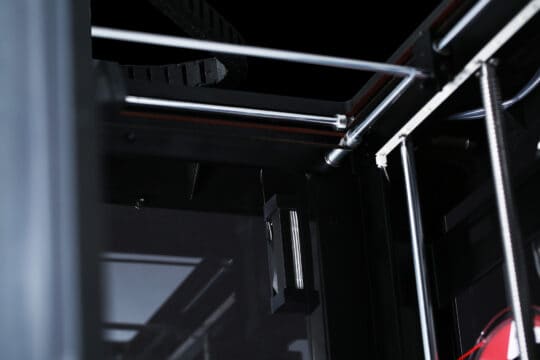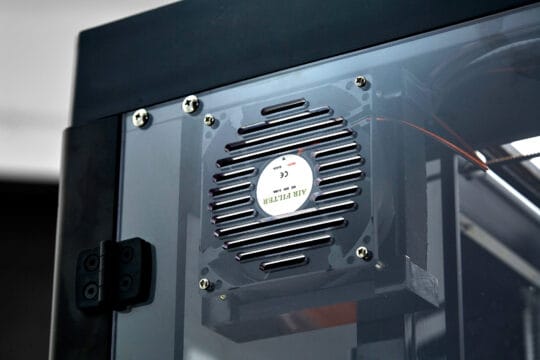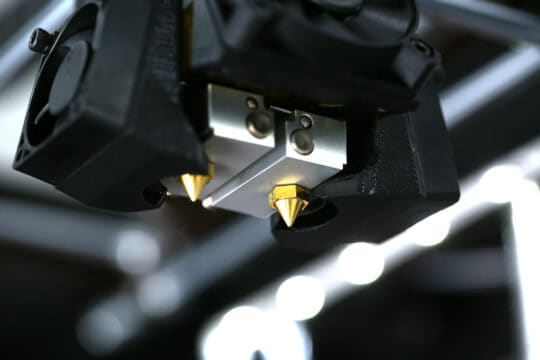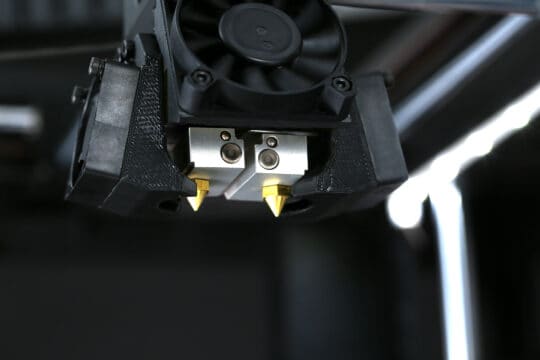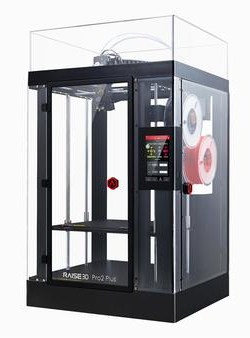 Product code: 6970240721307
3D printeris Raise3D Pro2 Plus
(Atzīmējiet 2-4 preces no kategorijas)
Technical
| | |
| --- | --- |
| Technology | FFF |
| drukāšanas izmērs [mm] | 305*305*605 |
| Drukas precizitāte | ±0.01mm |
| Slāņa biezums [mm] | 0.01-0.25mm |
| Sprauslas diametrs [mm] | 2 x 0.4mm |
| sprauslas temperatūra [C°] | 300 |
| Atbalstītie materiāli | PLA / ABS / HIPS / PC / TPU / TPE / NYLON / PETG / ASA / PP / PVA / Glass Fiber Enforced / Carbon Fiber Enforces / Metal Particles Filled / Wood Filled |
| Materiāla diametrs [mm] | 1.75 |
| Virsmas temperatūra [C°] | 110 |
| Connectivity | USB, LAN, WiFi |
| Displejs | ir, 7″, skārienjūtīgs |
| Iebūvēta videokamera | ir |
| jauda [W] | 600 |
| Korpuss | Slēgts |
| Dimensions (W x H x D) [mm] | 590x620x1105 |
| Weight [kg] | 59.3 |
Warrianty
Realize impressive results with the Raise3D Pro2 Plus Dual Extruder 3D printer. Raise3D stands for the production of high quality, reliable and affordable manufacturing machines. This 3D printer enables you to produce small series and prototypes. Join Additive Manufacturing now.
Main product features:
Precise control of the building platform via touch screen
Large building chamber: 305 x 305 x 600 mm
Integrated filament sensor & camera
Innovative air supply for clean air
Raise3D Pro2 Plus – Large volume FFF / FDM Dual Extruder 3D Printer
Raise3D stands for development of high-quality, reliable and affordable 3D printers. Realize components in convincing quality with this Raise3D Pro2 Plus Dual Extruder 3D printer. Furthermore, you can use this 3D printer to produce small series and prototypes quickly and inexpensively. In contrast to the Pro2, the Plus variant offers a higher building height by 30 cm in the Z direction – now 60,5 cm high. Enter now into the professional Additive Manufacturing.
The most relevant new features of the Raise3D Pro2 Plus are:
FFF / FDM Dual Extruder 3D printer
Optimized extruder head with improved nozzle
Precise electronic control of the build platform
Built-in filament sensor
Silicone print bed for high temperatures
Aluminum magnetic bed with comfortable 4 + 9 point lock system
Safe and environmentally friendly thanks to air filter
Further optimizations:
Built-in camera
Optimized Nozzle
Upgraded hot-end
Very extensive accessories
Improved factory calibration
High quality optical end stops
Software controllable active cooling fan
Massive build space: 305 x 305 x 605 mm
High-quality 3D printing
You will be impressed by the Raise3D Pro2 Plus. Your 3D prints are impractical, complicated and the finished parts are of inferior quality? That was yesterday. The Raise3D Pro2 Plus convinces with many smart functions. There are currently very few 3D printers on the market that combine all the crucial functions in one device. And if so, then these devices are many times more expensive than the Raise3D Pro2 Plus.
This 3D printer can be easily operated through its 7-inch color touch display. Surely you can use your smartphone? If so, you can handle the interface of the Raise3D Plus. By using the simple controls, you have your 3D printer always under control. Bring your digital masterpieces to life now.
Thanks to its enormous space, you can also produce very large objects and prototypes. Your components can reach an edge length of 305 x 305 x 605 mm. On top of that, the building chamber of this 3D printer is fully enclosed. This allows you to process more sophisticated materials such as ABS, HIPS, PET-G, PLA+, PP and ASA. Heat the build platform up to 110 ° C and the extruder up to 300 ° C. Realize your creative ideas now.
Raise3D Pro2 Plus offers an open system and can work with a variety of materials from most third-party manufacturers. The filaments only require a 1.75 mm diameter. Determine which filament from which supplier you use.
Improved dual extruder
Precise control of the build platform
Optimized extruder head with increased torque output and dual gear drive
Optical filament sensor – This will show you and immediately stop the 3D printer when the filament runs out. After reloading, you can simply restart working.
Thanks to the dual-extruder, you can make objects from two different filaments, materials or with support material. If you process PVA or HIPS filament in the second extruder, you can realize very complex components with overhangs. Simply dissolve the support filament after the finished 3D printing and you will get a convincing result.
New 3D printing bed
Now the Raise3D Pro2 Plus works with a new heating bed made of silicone. This increases the adhesion of your components on the build platform. The substrate of the construction platform consists of a magnetic aluminum profile. This is equipped with an improved 4 + 9 points lock system.
Air filter for improved air quality
Clean air is important to us all. This is true even if we talk about 3D printers. With the Raise3D Pro2 Plus, the air in your environment remains clean and free of harmful substances. The integrated air filter cleans the exhaust air.
Resume function
Fast production
The Raise3D Pro2 Plus allows you to produce at high production speed and a superior 3D printing quality. In the Z direction, very high resolution of up to 0.01 mm layer thickness can be achieved. Make fine structures and very smooth surfaces. The best way to work only with small objects with such a high resolution. Otherwise the construction time will be greatly increased.
Additional updates:
Improved factory calibration
Integrated camera
High quality optical end stops
Improved nozzle design
Hot-end upgrade
Very extensive accessories
Software controllable active cooling fan
Large building volume: 305 x 305 x 605 mm
Delivery:
1x Raise3D Pro2 Plus 3D printer with dual extruder
2x spools of PLA filament (1.00 kg each)
2x metal bars for cleaning the hot ends
1x tweezers
1x set of Allen keys
1x Scratcher
Various fuses
1x power cable
Printed instructions
Buy the Raise3D Pro2 Plus to get an affordable extra large volume FFF / FDM dual extruder 3D printer.
| | |
| --- | --- |
| Technical Details | |
| Usable Nozzle Type | Raise3D Pro2 |
| Usable Filament Diameter | 1.75 mm |
| Max Nozzle Temperature | 300 ºC |
| Open Filament System | Yes |
| Extruder Type | direct drive |
| Build Area | 305 mm x 305 mm x 605 mm |
| Dual Build Area | 303 mm x 280 mm x 605 mm |
| Build Plate Temp Max | 110 ºC |
| Build Plate Surface | BuildTak |
| Build Plate Material | Aluminum plate |
| Build Plate Attachment | magnetic /screws |
| Build Plate Leveling System | Pre-calibrated – manual Leveling |
| Build Chamber During Process | Open or Closed |
| Filament Chamber Closed | Yes |
| Extruder Number Of | 2 |
| Extruder Construction Type Dual | Dual-head with electronic lifting system |
| | |
| Installation Space / Requirements | |
| Total Mass Overall Dimensions | 590 mm x 620 mm x 1105 mm |
| Total Weight | 59.3 kg |
| Ambient Operating Temperature | 15°C – 30°C |
| Max Power Consumption | 600 W |
| Voltage | AC: 100 V, 3,3 A / 230 V (50/60 Hz) |
| | |
| Equipment | |
| Hepa Filter | Yes |
| Filament Runout Sensor | Yes |
| Power Loss Fail Safe | Yes |
| Touch Screen | Yes |
| Camera | Yes |
| Memory Internal | Yes, 8 Gbyte |
| | |
| Connection | |
| USB Port | Yes |
| Ethernet Port | Yes |
| WLAN | Yes |
| Cloud Control | Yes |
| | |
| Accuracy | |
| Layer Height | 0.01 – mm |
| | |
| Shipping | |
| Shipping Box | 690 mm x 730 mm x mm |
| Shipping Weight | 79.6 kg |