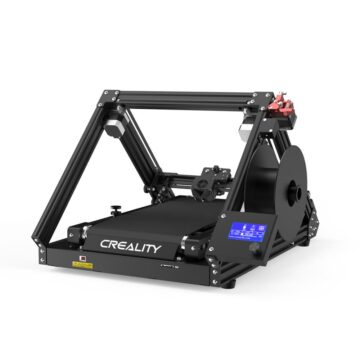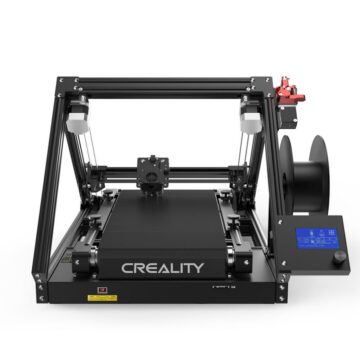 Product code: CR-30 BELT
3D printeris Creality CR-30 Printmill Belt
(Atzīmējiet 2-4 preces no kategorijas)
Technical
| | |
| --- | --- |
| Technology | FDM |
| drukāšanas izmērs [mm] | ∞*200*170 |
| Drukas precizitāte | ±0.1mm |
| Slāņa biezums [mm] | 0.1-0.4mm |
| Sprauslas diametrs [mm] | 0.4 mm |
| sprauslas temperatūra [C°] | 240 |
| Atbalstītie materiāli | PLA, PETG, any filaments melt =<240 C |
| Materiāla diametrs [mm] | 1.75 |
| Virsmas temperatūra [C°] | 100 |
| Connectivity | SD Card, USB |
| Displejs | ir |
| jauda [W] | 350 |
| Korpuss | Vaļējs |
| Dimensions (W x H x D) [mm] | 535x656x410 |
| Weight [kg] | 16.5 |
Warrianty
Drukāšanas virsma ir izveidota platas siksnas veidā, ļaujot drukāt neierobežota garuma priekšmetus.
3D PRINTMILL (CR-30) 3D PRINTER
3DPrintMill is a feature of infinite-length printing and bulk printing, thereby time-saving in printing and cost-efficient.The special infinite-Z belt is the first Creality 3D printer to realize infinite build volume in the world. Since 3DPrintMill is going to be released on Ceality's sixth anniversary, it will make a stir in the whole 3D printing industry.
Features
Infinite-Z build volume
Stable Core-XY structure
Broadband power supply
Exclusive slice software
45° angled hot-end
Nylon conveyor belt
Filament breakage detector
Ultra-silent motherboard
Infinite-Z-axis for Endless Printing
Equipped with the rolling conveyor-belt, it realizes continuous printing. No worries to print the infinite length model. High productivity, time-saving, and cost-efficient(Print dimension: 200*170*∞mm)
Stable CoreXY Structure
The stable and sturdy CoreXY precision structure with isosceles right triangle support gives you an extraordinary printing experience
Nylon Conveyor Belt
Made of wear-resistant Nylon, the conveyor belt features excellent adhesion to the model. The printed model can fall off automatically as the belt rolls to the end, thus free your handStrong adhesion| Hassle-free removal | Wear-resistant| Well-balanced conveyance*Easy to replace the conveyor-belt
Unique 45° Printing Angle
The unique 45 ° angle design offsets the limitations of the vertical nozzle structure. Equipped with a high-performance nozzle kit, it achieves continuous printing along the horizontal Z-axis
Adaptive Broadband Power Supply
The brand 24 V / 350 W power supply can automatically adapt to the global AC100-120V/ 200-240V. Rest assured of the system stability
Filament Breakage Detector
Whenever there is a possible accident like filament run-out or filament breakage, the smart sensor forces the machine to suspend printing. Printing will be automatically resumed after the new filament feed-in.
Exclusive Slice Software for 3DPrintMill Only
This slicing software CrealityBelt is specially designed for 3DPrintMill. CrealityBelt is truly user-friendly ascribing to its simple operation
Ultra-silent Motherboard
Silent chipset and low noise enhances the user experience
Hassle-free Leveling
Leveling already finished at the factory and the printer ready to use after installation
Triple Fans to Cool Down
Ensure high-quality printing and prolong the service life of the machine
Resume Printing
Intelligent power protection device and no fear of power failure
*A removable extension bracket is available for installing to prevent the model from falling during printing