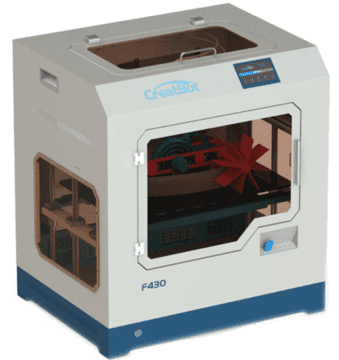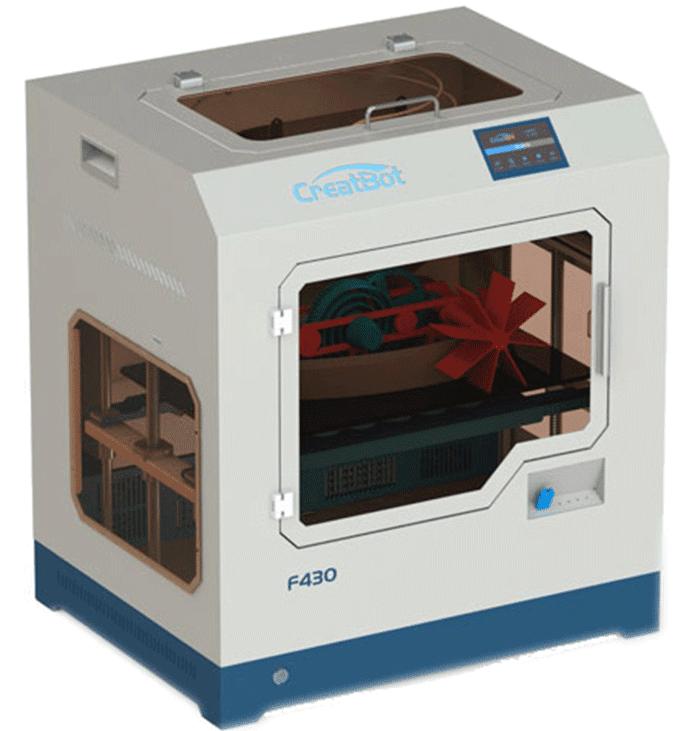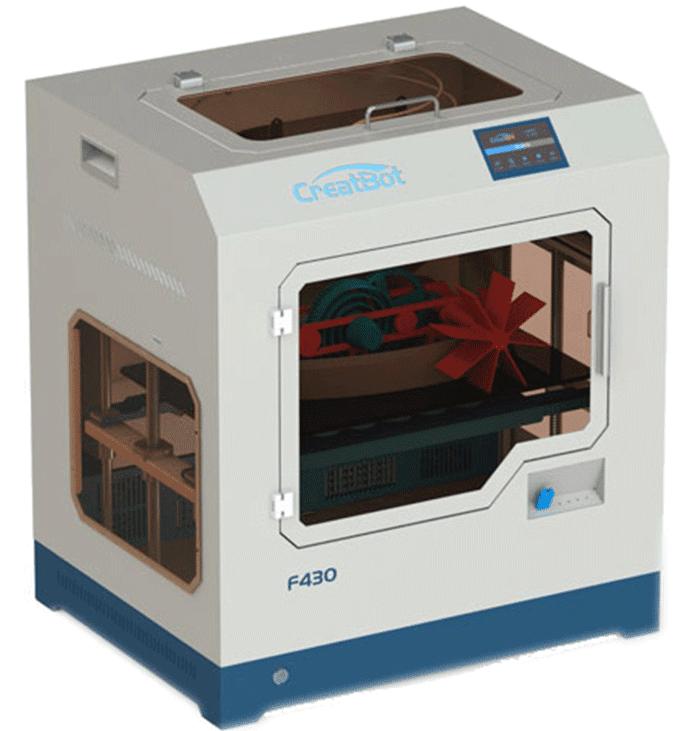 Preces kods: F430
3D printeris CreatBot F430 – 420°C version
(Atzīmējiet 2-4 preces no kategorijas)
Tehniskie parametri
| | |
| --- | --- |
| Tehnoloģija | FFF |
| drukāšanas izmērs [mm] | 300*400*300 |
| Drukāšanas ātrums [mm/s] | ≤120 mm/s (depends on material) |
| Drukas precizitāte | ±0.04mm |
| Slāņa biezums [mm] | 0.02-0.5 |
| Sprauslas diametrs [mm] | 2x |
| sprauslas temperatūra [C°] | 420 |
| Materiāla diametrs [mm] | 1.75 |
| Virsmas temperatūra [C°] | 140 |
| Savienojumi | USB |
| Displejs | ir, skārienjūtīgs |
| jauda [W] | 2700 |
| Korpuss | Slēgts |
| Izmērs (W x H x D) [mm] | 485x620x680 |
| Svars [kg] | 48 |
Garantija
The CreatBot F430 is a low cost high temperature 3D printer for additive manufacturing with PEEK filament and other high performance materials that require high extrusion temperatures. Use it to process industrial filament with an extruder temperature of up to 420 ° C and a maximum installation space temperature of 70 °C..
Product properties CreatBot F430:
Up to 70 ° C heated installation space minimizes warping
3D print PEEK, nylon, PC and other high temperature filaments – 420 C° heatable hot end
Power failure backup to easily resume your 3D prints continuously
Automatic levelling and adjustment of the construction platform
Low cost high temperature 3D printer CreatBot F430 for Additive Manufacturing of PEEK filament
Buy the affordable CreatBot F430 high-temperature 3D printer for cost-effective additive manufacturing with PEEK filament. Thanks to its 70 °C heatable construction chamber, you can use it to process demanding industrial filaments made of ABS, PC, PP, nylon, PEEK and further materials. This 3D printer works with high precision and impressive manufacturing speed. Use it to produce parts for the engineering, aerospace, medical and automotive industries.
System features of the CreatBot F430:
Heated installation space reduces warping
Full metal hot end
Hot end can be heated up to 420 °C
High manufacturing precision
Complete metal housing
Large installation space: 40 x 30 x 30 cm
Power failure backup to easily resume your 3D prints
Filament sensor for status detection
Glass ceramic printing bed for wonderfully smooth undersides
Simple and intuitive operation via touch screen
Direct drive of the extruder
Automatic levelling and adjustment of the construction platform
Completely enclosed installation space
Air filter system for clean ambient air
High-temperature 3D printer – With 420 °C Hotend
CreatBot is one of the first manufacturers to launch truly affordable 420 °C high temperature 3D printers. The CreatBot F430 is equipped with a double extruder. The dual extruder enables 3D printing with a variety of different filaments. Produce components with a wide range of material properties. To optimize the 3D printing results, you can fine-tune the nozzle and select the perfect setting.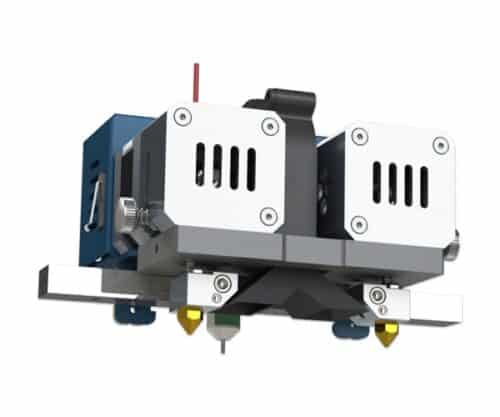 High precision & impressive manufacturing speed
Benefit from a precise industrial extruder guidance system. With this you can produce super precise and exact components. During the entire Additive Manufacturing process, the extruder runs smoothly and very evenly. The maximum production accuracy is up to 0.04 mm. 3D print and extrude filaments with the CreatBot F430 evenly and with minimal clogging of the nozzle.
Precision up to: 0.04 mm
Speed up to: 120 mm/s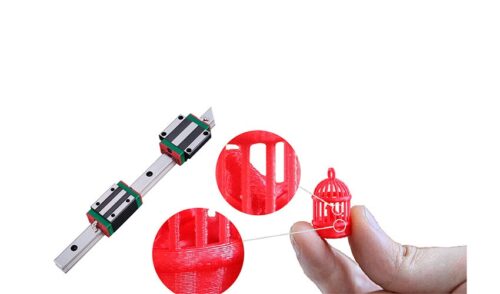 Solid metal frame offers stability
Use this high temperature 3D printer for many years. The solid metal frame of the CreatBot F430 extends its life significantly. The optimization and collaboration of all system components ensure sustainable and efficient operation. The first series of CreatBot 3D printers have been working reliably for over 5 years and more than 8000 hours.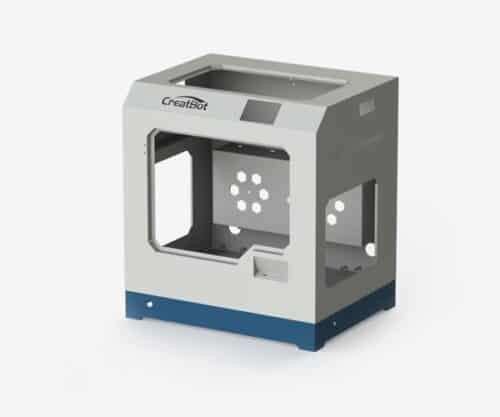 Fully enclosed high-temperature construction chamber
Thanks to the completely enclosed installation space, you can also process materials that have a strong tendency to warp (ABS, nylon, PC, PP, …). The closed high temperature construction chamber keeps all external influences away, the chamber temperature constant and greatly reduces noise. The sealed hot chamber ensures a constant room temperature so that your model does not deform during 3D printing.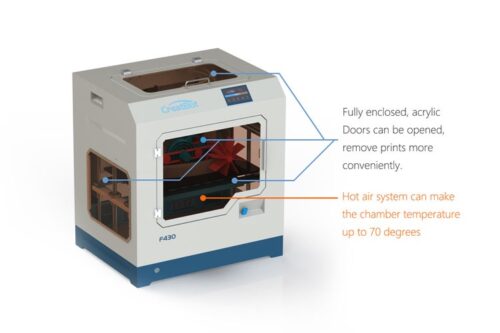 Power failure recovery and filament detection
In the event of a power failure, this 3D printer automatically stores the current position and production progress. In addition, it lowers the building platform and retracts the filament. After the recurring stream, you can simply resume your 3D printing.
With the CreatBot F430 your 3D prints succeed simply and without headaches – save time, costs and nerves thanks to smart functions.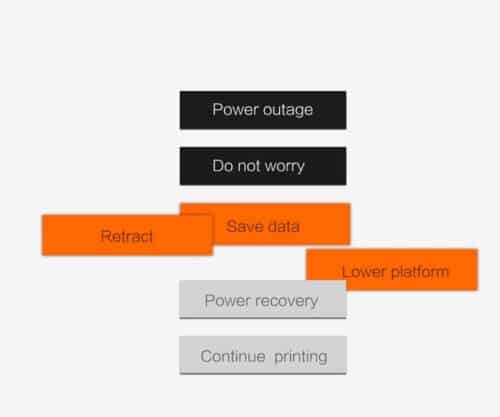 Intuitive and easy to use touch screen
This 3D printer has a color touch screen. Control the F430 easily and intuitively with One-Key-Touch. Just a tap of your finger is all it takes to warm, move, load filament or start a 3D print. Continuously monitor the progress of your 3D printing and take appropriate action. Get the perfect results now.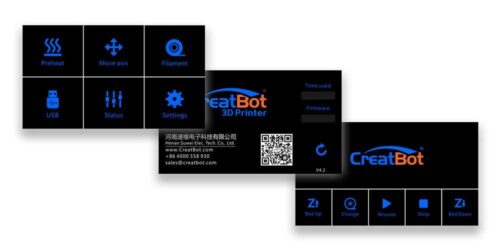 Glass-ceramic platform for even surfaces
This 3D printer has a glass ceramic construction platform. 3D print with it smooth surfaces with good adhesion on the building plattform. The ceramic surface is very well suited for the application of adhesives. Thanks to the good heat transfer, you also save energy due to heating the building platform efficiently. If you wish, you can switch off the heating of the building platform after a few 3D-printed layers.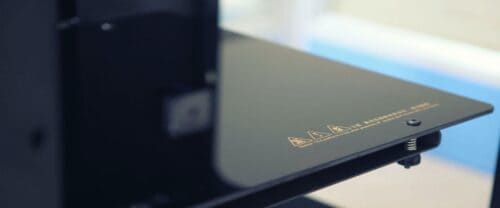 Clean air thanks to Air filter system
The air filter system effectively absorbs contaminants and odors emitted during 3D printing. So use it safe when processing filament with strong evaporation – like ABS. Air filtration makes the CreatBot F430 environmentally friendly and safe. Use it in your office, workshop, school, college or university or use it for company training and further education.

Automatic levelling platform for perfect surfaces
The CreatBot F430 uses 25 points to adjust the building platform correctly. A sensor measures the distance between the extruder nozzle and the building platform. Later in the additive manufacturing process, the F430 uses the information to extrude material of different strengths and build a flat surface for 3D printing. So your objects have a clean and flat surface. This ensures optimal generative manufacturing results from the first layer.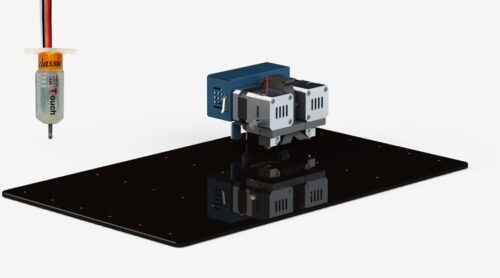 PEEK Filament & application
Standard F430s are able to process PLA, ABS, Nylon, etc. perfectly. For you now comes the F430 – 420 ° C PEEK-3D printer from CreatBot. PEEK filament requires an extrusion temperature of 420 °C and the new F430 delivers! PEEK material is characterized by high strength, toughness, corrosion resistance and wear resistance. Use PEEK in aerospace, electrical, medical, engineering, automotive and other industrial applications. With the F430 – 420 ° C you also benefit from the fascinating possibilities of this high-tech material.
Buy the low cost high-temperature 3D printer CreatBot F430 for Additive Manufacturing of PEEK filament and other high-tech filaments.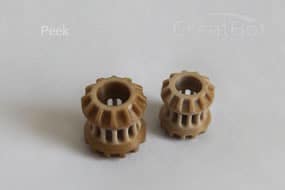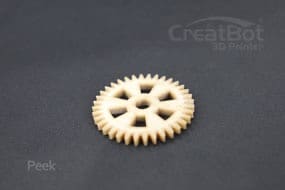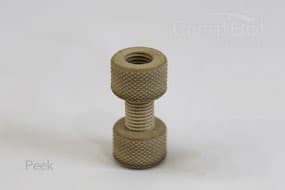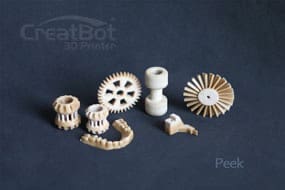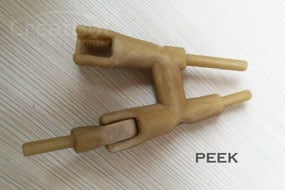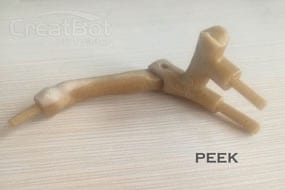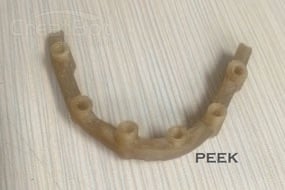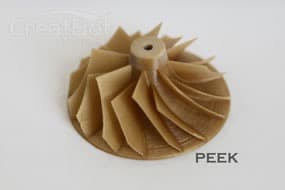 Ja gribiet saņemt vērtīgus padomus, interesantas idejas, praktiskus pieredzes stāstus, kas palīdzētu efektīvāk izvēlēties risinājumus, sazinieties ar mums.