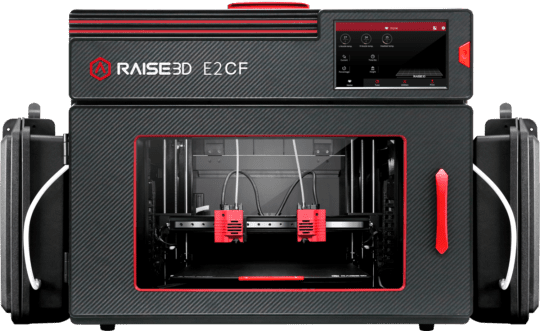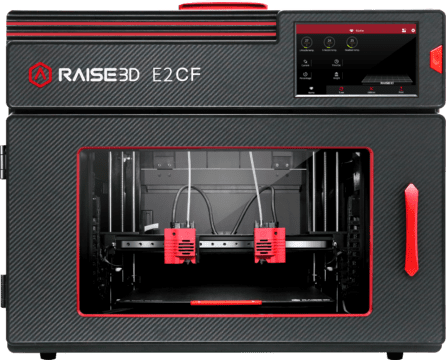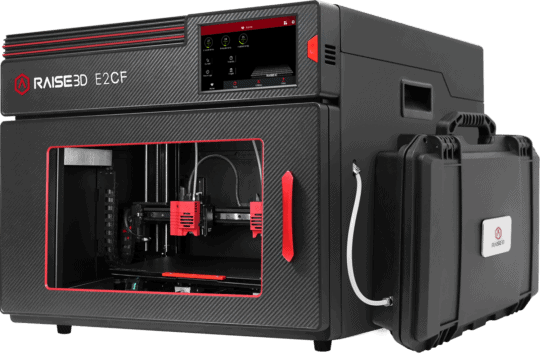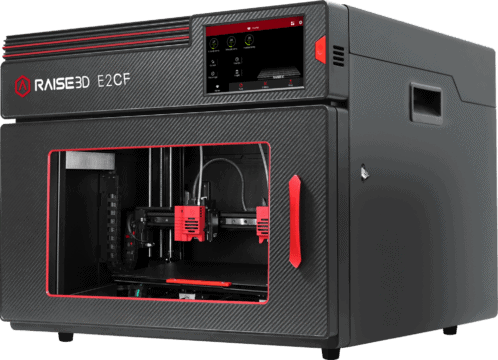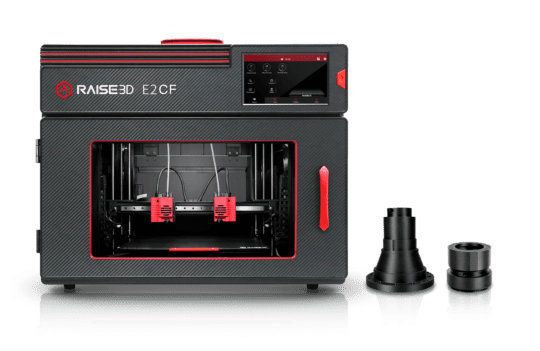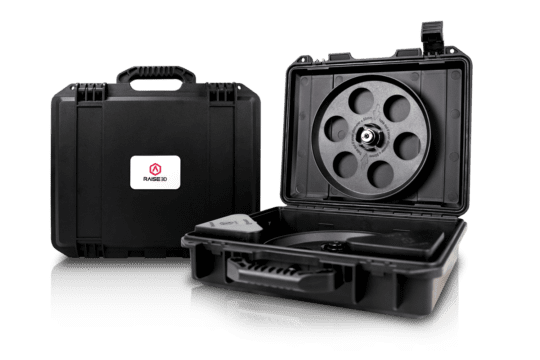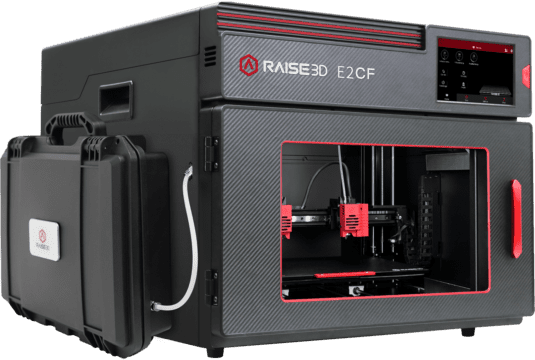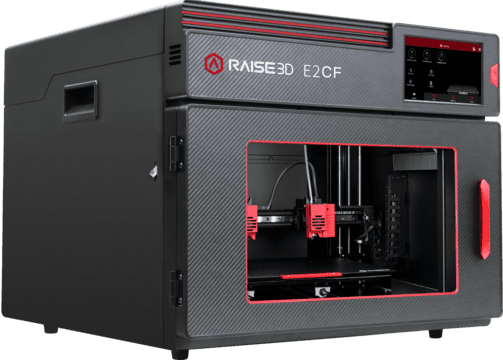 Preces kods: 6970240723608
3D printeris Raise3D E2CF
(Atzīmējiet 2-4 preces no kategorijas)
Tehniskie parametri
| | |
| --- | --- |
| Tehnoloģija | FFF |
| drukāšanas izmērs [mm] | 330*240×240 |
| Drukas precizitāte | ±0.01mm |
| Slāņa biezums [mm] | 0.01-0.25mm |
| Sprauslas diametrs [mm] | 2 x 0.4mm |
| sprauslas temperatūra [C°] | 300 |
| Materiāla diametrs [mm] | 1.75 |
| Virsmas temperatūra [C°] | 110 |
| Savienojumi | USB, LAN, WiFi |
| Displejs | ir, 7", skārienjūtīgs |
| Iebūvēta videokamera | ir |
| jauda [W] | 350 |
| Korpuss | Slēgts |
| Izmērs (W x H x D) [mm] | 596x607x465 |
| Svars [kg] | 32.4 |
Garantija
The Raise3D E2CF is a professional 3D printer with IDEX dual extruder designed to reliably process fiber reinforced filaments. 3D print industrial filaments on the E2CF, such as PA12 CF, PPA CF, PET CF, PPS CF and other Raise3D filaments. This 3D printer is excellent for prototyping, rapid tooling and additive manufacturing. In the future, third-party filaments will also be able to be processed on the Raise3D E2CF. To ensure process reliability, the E2CF can only process Raise3D certified filaments.
The main features of Raise3D E2CF:
Professional 3D printer with IDEX dual extruder – Optimized for processing carbon fiber reinforced filament
Carbon fiber reinforced filament has low density, high strength and is resistant to corrosion, static electricity and high temperatures
Use Carbon fiber reinforced filament in wide range of potential applications, such as mechanical engineering or the automotive, aerospace & defense industries
Like every Raise3D printer, the E2CF is perfectly crafted, user-friendly and reliable to use, ensuring optimal precision 3D printing
Raise3D E2CF – Professional 3D printer with IDEX extruder optimized for 3D printing of carbon reinforced filaments
Professional 3D printers like the E2CF are high-quality and user-friendly 3D printers. They are equipped with features that ensure the best possible 3D printing results. For example, the E2CF has a flexible build plate that allows 3D printed parts to be easily removed without damaging the part during removal. Smart features like the flexible build plate, make the E2CF a user-friendly and professional 3D printer that is also suitable for beginners. Due to its power, the E2CF is also suitable for many industrial applications.
Main features Raise3D E2CF:
Nozzles with long resistance to abrasion
Optimized for user-friendly 3D printing of carbon fiber reinforced filament
Dual Direct Drive Extrusion System for reliable & uniform filament feeding
IDEX Extruder – 3D print two parts simultaneously in mirror or duplicate mode
Raise3D Industrielles PA12 CF Stützfilament
Filament Dry Box from Raise3D & HEPA Filter
Slicing Profile for ideaMaker
Easy maintenance thanks to intuitively replaceable printheads
Auto Bed Leveling, Integrated Camera, Power Failure Protection & Automatic Filament Detection
Improved leveling accuracy & full metal frame
Nozzles with high resistance
The new silicon carbide nozzles have excellent wear resistance and thermal conductivity. Due to the high resistance, the abrasion of the nozzles is effectively reduced by the carbon fiber composite filament. As a result, the Nozzle is more durable.
*Nozzles made of other materials suitable for carbon fiber filament 3D printing will be launched in the future.
Dual direct drive extrusion system
The gears are made of high-strength steel and have been heat-treated for better wear resistance.
A custom tooth profile is used to hold the filament firmly in place. This ensures that it does not slip during extrusion. The force of the system has been optimized to ensure the stability of the 3D printing process at all times.
Engineered for 3D printing carbon fiber reinforced filament
On the E2CF, Raise3D's industrial PA12 CF filament and the necessary support material can be perfectly combined. In the future, other carbon fiber reinforced filaments will be available for the E2CF, such as Raise3D's PPA CF, PET CF, PPS CF (with a printing temperature between 280 and 300ºC). Third-party filaments certified by the Raise3D Open Filament Program, such as those from BASF and LEHVOSS, will also be available for the Raise3D E2CF at a later date.
*The E2CF only supports approved filaments and print profiles. For the complete list, please refer to the technical datasheet or contact Raise3D.
Raise3D Industrial PA12 CF filament is reinforced with short carbon fibers and has excellent stiffness, strength, heat resistance, low warpage and low water absorption. At the same time, this material has an excellent strength-to-weight ratio. After baking, it acquires improved mechanical properties and dimensional stability, making it suitable as a substitute for metal in the manufacture of certain lightweight components.
Raise3D Industrial PA12 CF Support Filament
Raise3D Industrial PA12 CF Support Filament is a mechanically removable support material specifically designed for use with carbon fiber reinforced composite filaments. During the 3D printing process, it forms a stable support structure that provides good adhesion to the printed surfaces and counteracts warping. This significantly improves the surface quality of the overhangs and recesses of the printed objects. After 3D printing, the support structure can be easily removed or broken off from the printed parts. This support material has broad compatibility with many high performance carbon fiber reinforced composite filaments and is more cost effective compared to water soluble support material.
Raise3D Filament Drying Box
The built-in receptacles are used to perfectly place the filament and allow for a more consistent material feed. When closed, the filament dry box can effectively protect the material from dust and moisture for up to 30 days*.
*Based on Raise3D test data.
ideaMaker slicing profiles
The Raise3D E2CF has specific slicing profiles that have been repeatedly tested and verified by our engineers in ideaMaker. No need to adjust the parameters before 3D printing. Enjoy easy and high quality 3D printing.
As with the other Raise3D products, the E2CF combines mass production and intelligent 3D printing management with ideaMaker as the platform.
| | |
| --- | --- |
| Technical Details | |
| Usable Nozzle Type | Raise3D E2CF |
| Usable Filament Diameter | 1.75 mm |
| Max Nozzle Temperature | 300 ºC |
| Open Filament System | Yes |
| Extruder Type | direct drive |
| Build Area | 330 mm x 240 mm x 240 mm |
| Dual Build Area | 295 mm x 240 mm x 240 mm |
| Build Plate Temp Max | 110 ºC |
| Build Plate Surface | BuildTak |
| Build Plate Material | Flexible Steel Plate |
| Build Plate Attachment | magnetic |
| Build Plate Leveling System | Mesh-leveling with Flatness Detection |
| Build Chamber During Process | Open or Closed |
| Filament Chamber Closed | Yes |
| Extruder Number Of | 2 |
| Extruder Construction Type Dual | IDEX – Independent Dual Extruders |
| | |
| Installation Space / Requirements | |
| Total Mass Overall Dimensions | 607 mm x 596 mm x 465 mm |
| Total Weight | 32.4 kg |
| Ambient Operating Temperature | 15°C |
| Max Power Consumption | 350 W |
| Voltage | AC: 100 V – 240 V, 2 A (50/60 Hz) |
| | DC: 24 V |
| | |
| Equipment | |
| Hepa Filter | Yes |
| Door Sensor | Yes |
| Filament Runout Sensor | Yes |
| Power Loss Fail Safe | Yes |
| Touch Screen | Yes |
| Camera | Yes |
| Memory Internal | Yes, 8 Gbyte |
| | |
| Connection | |
| USB Port | Yes |
| Ethernet Port | Yes |
| WLAN | Yes |
| Cloud Control | Yes |
| | |
| Accuracy | |
| Layer Height | 0.1 – 0.25 mm |
| | |
| Shipping | |
| Shipping Weight | 45.4 kg |
Ja gribiet saņemt vērtīgus padomus, interesantas idejas, praktiskus pieredzes stāstus, kas palīdzētu efektīvāk izvēlēties risinājumus, sazinieties ar mums.