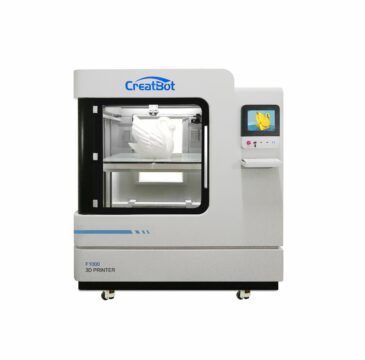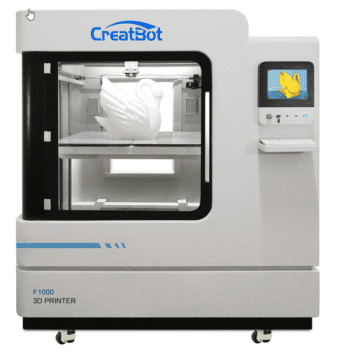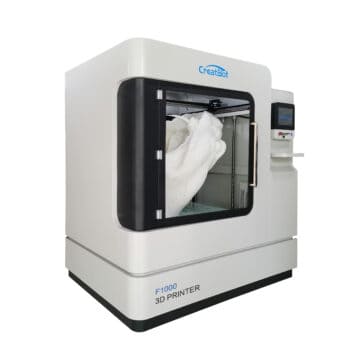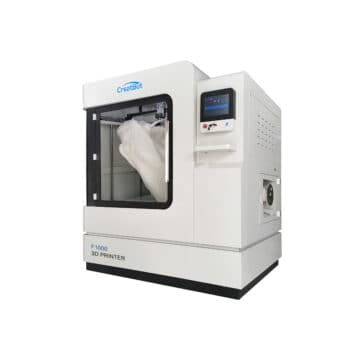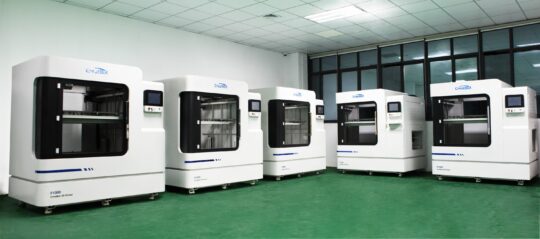 Preces kods: CreatBot F1000
3D printeris CreatBot F1000
(Atzīmējiet 2-4 preces no kategorijas)
Tehniskie parametri
| | |
| --- | --- |
| Tehnoloģija | FFF |
| drukāšanas izmērs [mm] | 1000*1000*1000 |
| Drukāšanas ātrums [mm/s] | ≤120 mm/s (depends on material) |
| Drukas precizitāte | ±0.05mm |
| Sprauslas diametrs [mm] | 2x |
| sprauslas temperatūra [C°] | 420 |
| Materiāla diametrs [mm] | 1.75 |
| Virsmas temperatūra [C°] | 100 |
| Savienojumi | USB |
| Displejs | ir, 9.7", skārienjūtīgs |
| jauda [W] | 10000 |
| Korpuss | Slēgts |
| Izmērs (W x H x D) [mm] | 1300x1740x1920 |
| Svars [kg] | 550 |
Garantija
CreatBot F1000
With the CreatBot F1000 you can now print both big and complex models.The F1000 is a industrial large format printer with dual extruders and heated build chamber.
Highlights
A 64-point measuring system auto levels the build plate
High accurate linear guide system
Filament detection with pause function
Resume print after power outage
Heated glass ceramic build plate
Easy to use 9,7" touch screen
Heated build chamber (60°C)
Heated filament storage, select between 45°and 65°C
Dual extrusion with 420°C capable nozzles
High resolution of 0.05 mm
Stable steel construction
Totally enclosed build area for temperature control and noise reduction
Dual extruders with 420°C capacity
F100 are one of the first high-performance printers that comes with high temperature hot ends as standard. The dual extruders with high temperature nozzles let you print with a wide variety of different materials. The advanced cooling system makes sure that your hot ends always work under optimal conditions.
Print with precision and speed
With the F1000, CreatBot has taken everything a step further when it comes to speed, precision and reliability. Resolution up to 0,05 mm and a print speed up to 120 mm/s (60 mm/s optimal speed). Combine this and a powerful direct drive setup, and you have a printer that will perform at its best every time you use it.
Steel construction for maximum stability
Thanks to the steel construction the F1000 weighs in at a whopping 550 Kg. The steel housing makes sure that the F1000 always is stable and secure during operation. Vibrations are also kept too a minimum which in the long run makes the life span of the printer very long. In fact, the first printers from CreatBot has been running for 5 years and over 8000 hours without any major problems.
Huge print area
The F1000 is a industrial printer at its best. With this printer you can make prototypes and functional prints at a size of 1000x1000x1000 mm, that's 1x1x1 meters! That is a volume that is 60 times higher than most regular printers.
Glass-ceramic build plate
The large build plate is made of glass-ceramic and is strong enough to withstand both weight and high temperatures that it´s subjected to.
Enclosed build chamber
The completely enclosed build chamber removes all external influences. You don´t have to worry about wind gusts and temperatures in the room where the F1000 is placed. The enclosed construction also serves as a noise reduction and that the print environment always keeps a constant and even temperature.
Auto leveling platform
With the help of 64 measuring points and a BL-Touch the F1000 probes and make the adjustments needed to make the build plate leveled and saves the correct settings so you can rest assure that the print result will come out as you planned.
On board camera
The F1000 can sometimes work with print that keeps on going for several hundred of hours. In cases like that it nice to have a camera that lets you monitor the progress from a distance.
Software included
The F1000 comes bundled with a tailor maid version of Cura, which is one of the most used slicers in the world. CreatBot´s version is CreatWare. If you, for some reason, rather would use another slicer it´s good to know that F1000 is compatible with SimpliFy3D
Safe to use
There is a auto off function after your print is done. There´s also an emergency stop function
Large touch screen
The large 9,7" touch screen makes the printer easy to control with an intuitive UI.
High accurate linear guide system
The accurate linear rail structure can print models in accuracy high reach to 4~5 times higher than the other ordinary optical axis printers in mass market. This structure offers accurate filament feeding, so that can print large model fast and perfectly.
Outage restored and filament detection
The printer will automatically memorize the current position and save print data, lower the platform and reverse the filament if the power suddenly would go out.When the power returns, it will continue to print from the last current position.The printer will also detect if the filament should run out and then pause the print so you can change spool.
Enclosed and heated build area
The build-chamber on the F1000 can be heated to 60°C. Thanks to this function the printer can keep a constant temperature and means that you run a much lesser risk of cracks and warping. That is a problem that you often encounter with ABS for instance on printers without heated build chamber.
Filament drying room
Many materials are hygroscopic, meaning that the absorb and hold a lot of water molecules from the surrounding environment. A typical filament which absorbs a lot is Nylon. This filament needs to be dried before each use.On the F1000 they have made another approach for this problem. You have a storage area where you can keep your most sensitive spools and keep them dry. You can choose between 45°C or 65°C depending on material.
Highlights
Massive print area of 1000x1000x1000 mm
| | |
| --- | --- |
| Technical Details | |
| Usable Nozzle Type | MK8 |
| Usable Filament Diameter | 1.75 mm |
| Max Nozzle Temperature | 420 ºC |
| Open Filament System | Yes |
| Extruder Type | direct drive |
| Printing Speed Best | 60 mm/s |
| Build Area | 1000 mm x 1000 mm x 1000 mm |
| Dual Build Area | 1000 mm x 1000 mm x 1000 mm |
| Build Plate Temp Max | 100 ºC |
| Build Plate Surface | BuildTak max 45°C |
| Build Plate Material | Aluminum plate |
| Build Plate Attachment | fixed |
| Build Plate Leveling System | mechanical switch |
| Build Chamber During Process | Open or Closed |
| Build Chamber Heated | Yes, max 60°C |
| Filament Chamber Closed | Yes |
| Extruder Number Of | 2 |
| Extruder Construction Type Dual | Dual-head with electronic lifting system |
| | |
| Installation Space / Requirements | |
| Total Mass Overall Dimensions | 1300 mm x 1740 mm x 1920 mm |
| Total Weight | 550 kg |
| Ambient Operating Temperature | 15°C – 32°C |
| Max Power Consumption | 10.000 W |
| Voltage | AC: 220 V, 40A A – 240 V, 18 A (50-60 Hz) |
| | |
| Equipment | |
| Emergency Shutdown | Yes |
| Hepa Filter | Yes |
| Filament Runout Sensor | Yes |
| Power Loss Fail Safe | Yes |
| Touch Screen | Yes |
| Camera | Yes |
| | |
| Connection | |
| USB Port | Yes |
| WLAN | No |
| | |
| Accuracy | |
| Layer Height | 0.05 – 0.6 mm |
| Resolution | 0.1 mm |
| | |
| Shipping | |
| Shipping Box | 1510 mm x 1910 mm x 2205 mm |
| Shipping Weight | 640 kg |
Ja gribiet saņemt vērtīgus padomus, interesantas idejas, praktiskus pieredzes stāstus, kas palīdzētu efektīvāk izvēlēties risinājumus, sazinieties ar mums.