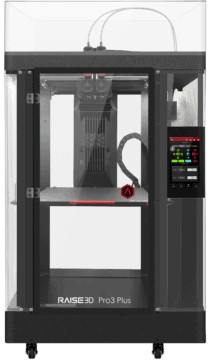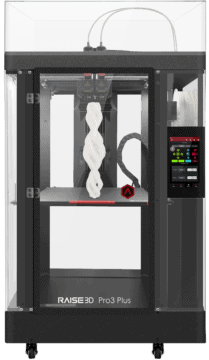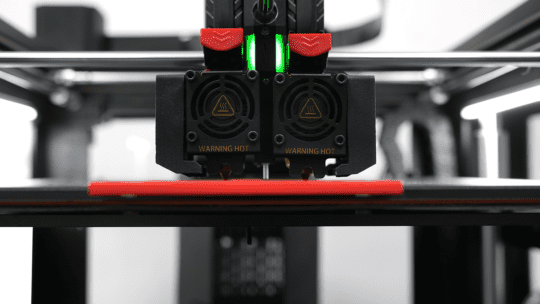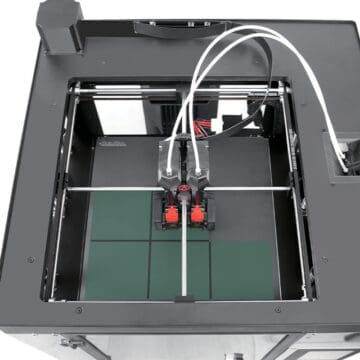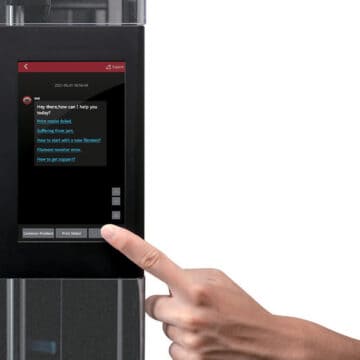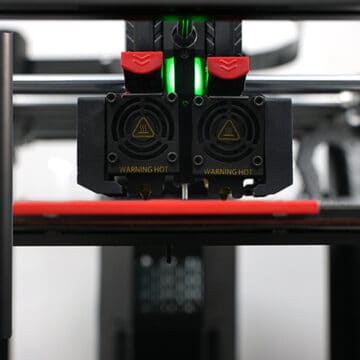 Preces kods: 6970240723622
3D printeris Raise3D Pro3 Plus
(Atzīmējiet 2-4 preces no kategorijas)
Tehniskie parametri
| | |
| --- | --- |
| Tehnoloģija | FFF |
| drukāšanas izmērs [mm] | 300*300*605 |
| Drukas precizitāte | ±0.01mm |
| Slāņa biezums [mm] | 0.01-0.25mm |
| Sprauslas diametrs [mm] | 2 x 0.4mm |
| sprauslas temperatūra [C°] | 300 |
| Atbalstītie materiāli | PLA / ABS / HIPS / PC / TPU / TPE / NYLON / PETG / ASA / PP / PVA / Glass Fiber Enforced / Carbon Fiber Enforces / Metal Particles Filled / Wood Filled |
| Materiāla diametrs [mm] | 1.75 |
| Virsmas temperatūra [C°] | 120 |
| Savienojumi | USB, LAN, WiFi |
| Displejs | ir, 7", skārienjūtīgs |
| Iebūvēta videokamera | ir |
| jauda [W] | 600 |
| Korpuss | Slēgts |
| Izmērs (W x H x D) [mm] | 620x626x1105 |
| Svars [kg] | 61.2 |
Garantija
One of the most popular professional printers in the world has a new version of their printer!
Forged from the Pro2 Series, Raise3D's newly launched Pro3 Series 3D printers meet the needs of both production and multi-sized rapid prototyping, with high precision and round-the-clock stable operation, fulfilling the requirements of large-scale production and multi-sized rapid prototyping. A high-quality printer design that includes enhanced features and a smart assistant system known as EVE, all of which make the Pro3 Series an excellent option for professional 3D printing.
Highlights Raise3D Pro3 Plus:
Large build surface of 300mm x 300mm x 605mm
Independent modular extruder with detachable hot-end
Auto bed leveling
Flexible build plate
Air flow manager and HEPA air filter
EVE – Smart assistant helps locate and resolve issues
Hot- end temperatures up to 300 ºC
Raise3D Pro3 – Professional 3D Printer for companies & demanding end users
The Raise Raise3D Pro3 is a significant upgrade from the Raise3D Pro2. The manufacturer put many years of experience in 3D printing industry in this advanced FFF/FDM 3D printer. Moreover, the Pro3 is built to meet the demand of sophisticated end users and companies. Including many smart features, it has an unparalleled productivity and comes along with an easy-to-use interface.
More Features
One-Touch Sleep Mode
Filament Run-out Sensor
Automatic Detection
Fast Nozzle Switching
Z-axis Rod Stiffness Increased
Power Loss Recovery
Capable of Printing Filaments Up to 300°
PLA/ ABS/ HIPS/ PC/ TPU/ TPE/ PETG/ ASA/ PP/ PVA/ Nylon/ Glass Fiber Infused/ Carbon Fiber Infused/ Metal Fill/ Wood Fill
Printing Management
RaiseCloud: Remote management cloud platform Raise3D Printers: FFF 3D printers with wide applications
Data Conversion
ideaMaker: Powerful 3D slicer software
Data Preparation
Open Filament Program: Third-party slicing profile database Raise3D Academy
All-in-one 3D printing knowledge base ideaMaker Library: User community and slicing profile sharing platform
EVE Smart Assistant
The EVE assistant can guide users to accurately locate and resolve issues that could affect the final print job.
It has a function that gives users reminders about regular scheduled interventions to ensure that printer maintenance is performed on time.
It also helps reduce maintenance time and communication costs for an efficient maintenance process.
Lightweight Cable with Digital Temperature Measurement
The Pro3 Series replaces the drag chain cable with a lightweight cable, to reduce the weight of the extruder and keep the center of gravity in the middle during printing for more stable print quality. The Pro3 Series also uses digital temperature measurement, for accurate and anti-jamming temperature reading.
Air Flow Manager & HEPA Air Filter
The Air Flow Manager of the Pro3 Series improves heat dissipation and air circulation, and creates a stable environment inside the print chamber.
Equipped with a HEPA air filter, Air Flow Manager can also filter and clean the air inside the chamber.
The Pro3 Series uses HEPA air filtration to clean the air of any particles (including nano-particles) released during the 3D printing process. The HEPA air operates silently, quietly working in the background of any work area.
Flexible Build Plate
The flexible build plate can be bent to easily remove 3D printed parts while minimizing potential damage to the final print. The Pro3 Series is also compatible with metal build plate, and high temperature build plate made of 100% pure borosilicate glass.
Auto Bed Leveling
Auto bed leveling improves bed adhesion and allows the extruder to adjust to even the most minor of surface contour changes for better final print quality.
Independent Modular Extruder with Detachable Hot End
The Pro3 Series is equipped with an independent modular extruder with a dual extrusion structure. This allows the Pro3 Series to print using a variety of filaments, reduce clogging, and allow convenient disassembly and replacement of components. The hot end of the Pro3 Series is easy to remove, facilitating the replacement and maintenance of the hot end. Users can also easily take off the front cover of the extruder to accurately locate common printing impediments such as filament jams.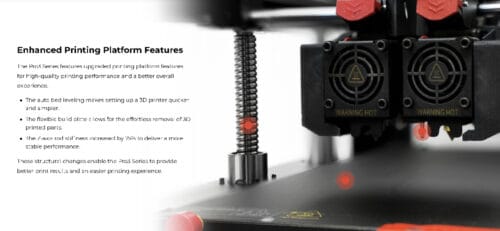 | | |
| --- | --- |
| Technical Details | |
| Usable Nozzle Type | Raise3D Pro2 |
| Usable Filament Diameter | 1.75 mm |
| Max Nozzle Temperature | 300 ºC |
| Open Filament System | Yes |
| Extruder Type | direct drive |
| Build Area | 300 mm x 300 mm x 605 mm |
| Build Plate Temp Max | 120 ºC |
| Build Plate Surface | BuildTak |
| Build Plate Material | Flexible Steel Plate |
| Build Plate Attachment | magnetic |
| Build Plate Leveling System | Mesh-leveling with Flatness Detection |
| Build Chamber During Process | Open or Closed |
| Filament Chamber Closed | Yes |
| Extruder Number Of | 2 |
| Extruder Construction Type Dual | Dual-head with electronic lifting system |
| | |
| Installation Space / Requirements | |
| Total Mass Overall Dimensions | 620 mm x 626 mm x 1105 mm |
| Total Weight | 61.15 kg |
| Ambient Operating Temperature | 15°C – 30°C |
| Max Power Consumption | 600 W |
| Voltage | AC: 100 V – 240 V, 3,3 A (50/60 Hz) |
| | DC: 24 V |
| | |
| Equipment | |
| Hepa Filter | Yes |
| Door Sensor | Yes |
| Filament Runout Sensor | Yes |
| Power Loss Fail Safe | Yes |
| Touch Screen | Yes |
| Camera | Yes |
| Memory Internal | Yes, 8 Gbyte |
| | |
| Connection | |
| USB Port | Yes |
| Ethernet Port | Yes |
| WLAN | Yes |
| Cloud Control | Yes |
| | |
| Accuracy | |
| Layer Height | 0.01 – 0.25 mm |
| | |
| Shipping | |
| Shipping Weight | 95.4 kg |
Ja gribiet saņemt vērtīgus padomus, interesantas idejas, praktiskus pieredzes stāstus, kas palīdzētu efektīvāk izvēlēties risinājumus, sazinieties ar mums.